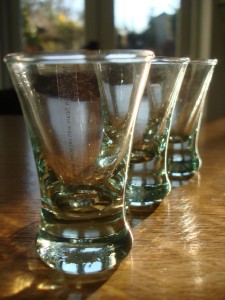 Our recycled glass items are some of the few products that we import in to the UK. We purchase our glass from a UK based, ethical and environmentally conscious company who import the products from Spain.
We have lots of products made from recycled glass, including; recycled wine glasses, tumblers, carafe, jugs, vases, candle holders, hurricane lamps, lanterns and more.
Our recycled colour glass is coloured using natural paints.
Why recycled glass?
Glass is the ideal "green" material – it can be recycled over and over again and does not deteriorate.
Every time a bottle is recycled enough energy is saved to light a 100W bulb for 4 hours.
Each tonne of glass recycled saves 1.1 tonne of raw materials.
Recycled glass requires about 40% less energy to produce than new virgin glass.
Every metric ton of waste glass, recycled into new items saves 315 kilograms of CO2 from being released into the atmosphere during the creation of new glass.