We firmly believe in the adage Reduce, Reuse, Recycle – in that order!
All our packaging is either reused or 100% recycled. We also try to minimise the amount of packaging we send you, although due to the nature of some of our products (i.e. recycled glass) this can be difficult.
We hope that when you receive your items you will reuse or recycle the packaging.
The packing materials we use are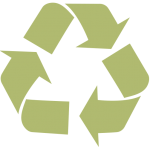 Recycled double wall cartons
Recycled bubble wrap
Recycled corrugated roll and recycled packing tape
Reused Cartons, such as those in which we receive our stock from our suppliers